Wavel Ramkalawan (Seychelles President) has spoken of his country's ambitious climate-change targets and urged other countries to follow his example at Expo 2020 Dubai. Seychelles is one of the tiniest countries in East Africa, with an archipelago of 115 islands in it. Seychelles is home to numerous nature reserves, beaches, coral reefs, and endangered species.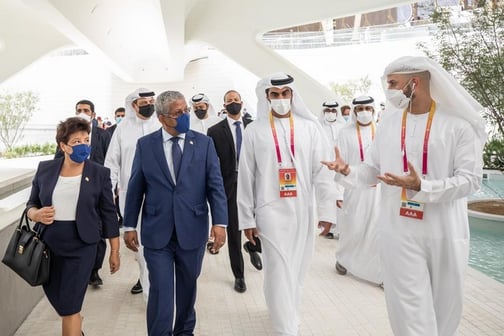 Seychelles President delivers a message to other countries – "Small as we are, 32 percent of our ocean is under protection, as well as 48 percent of our landmass. We want to show other countries that we are leading by example." The President spoke as part of Seychelles Expo 2020 National Day celebrations, accompanied by SylvestreRadegonde, Minister of Foreign Affairs and Tourism, who attended the country's Expo 2020 National Day celebrations earlier.
Further, he stated that collaborations between the nations are encouraging in all the sectors, including environmental goals to tourism. Now Emirates has declared to offer two daily flights to Seychelles based on countries increasing popularity in the tourism sector. Seychelles contains one of the best coral reefs and beaches in the Indian ocean, with more tourists visiting the country, surpassing the last year despite the Covid-19 pandemic.
COVID Regulations: Seychelles has published that the tourists visiting their country will have to present the 72 hours Negative PCR Test as mandatory.