Pink Sand Beach in Harbour Island, Bahamas, is one of the world's best sand beaches. Situated on the Bahamas, one of the smaller islands, this beach's crystal clear water is perfect for swimming and sunbath. Stretching for 3 miles long, the beach is well-known for its pink beach sand!! Hence it remains an ideal tourist destination in the Bahamas. A perfect place to connect with nature. This graceful island with many resorts guarantees ultimate relaxation in the beautiful surroundings. The sea is great for swimming, and it warm consistently, shielded from the rolling waves of the Atlantic by a coral reef. The Pink Sand Beach Bahamas island is full of tourists to enjoy snorkeling and fishing activities. While in the evening, they make a relaxed walk on the shore or move to town and enjoy a vibrant nightlife with the locals.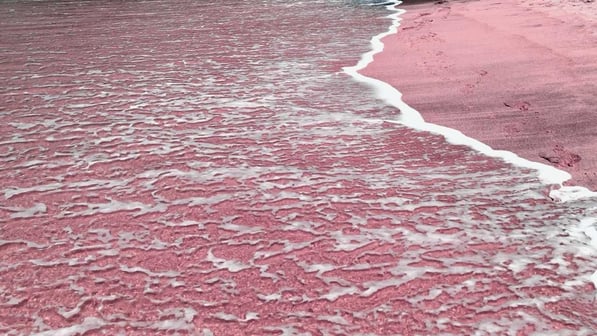 What is the reason for the pink beach sand?
The pink shade of the sand is due to Foraminifera, a tiny coral insect with a dark pink or red shell full of holes through which it extends pseudopodia, a footing that is used to attach itself and feed. Foraminifera is single-celled organisms that live on the underside of reefs, below rocks & caves, and the sea floors. They are brought up to the shore as a result of waves or fish which feed on them. After the insect dies, the wave activity smashes the bodies, washes the remaining parts aground, and blends them in with the sand and pieces of coral. As a result, the pink color is highly seen in the wet sand at the water's edge.
What is the best time to visit the Bahamas?
The Bahamas has good weather all around the year. However, the best time to visit the Bahamas is from December to May, where the temperature ranges between 70 °F -75 °F.
What is the most popular activity at Harbour Island?
Swimming, snorkeling, scuba diving, and fishing are the most popular activity at Harbour Island.
What are the best hotels & resorts near Pink Sand Beach Bahamas ?
Pink Sands Resort, Coral Sands Hotel, Villa Allamanda, Valentines Resort and Marina, Sky Beach Club.
Name some other pink beach sand in the world?
Horseshoe Bay Beach in Bermuda, Elafonissi Beach in Greece, Pink Beach in Indonesia, Crane Beach in Barbados, Pfeiffer Beach in California.
Is pink sand beach is a perfect tourist destination in the Bahamas?
Yes. The Pink Sand Beach is a perfect tourist attraction in the Bahamas. The pink color of the sand makes it more impressive, and its calm and shallow water are safe to indulge in water activities.