Alkebulan – The African Dining Hall provides visitors an opportunity to discover this huge continent's delectable cuisine and eclectic culture. Alkebulan – the oldest name of Africa translating to 'Garden of Eden' or 'Mother of Mankind' is a cooking concept created by award-winning chef Alexander Smalls. In addition, leading African chefs, including Chef Coco, celebrity TV chef Kiran Jethwa, and Chef Smalls, will fulfill visitors' hunger through their signature dishes. With live culinary demonstration and musical performance as you dine, it gives a real African ambiance.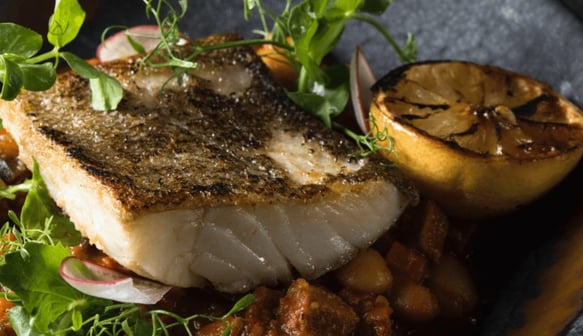 This African food hall contains ten counters, and each will provide a different menu :
Afro Street Eatery, by chef Coco, is a great place to enjoy modern African street foods, which have rich aromatic flavors of West Africa. Ugandan-style miniature chapatti wrap filled with beef or vegetable curry is a must-try dish at this counter.
Bar Cane, also by chef Coco, fulfills sweet desires, serving what could well be the world's best doughnuts, washed down with dessert cocktails.
Chicken Coop, by Smalls, provides delicious chicken in its best two forms: rotisserie and fried. Not to be missed dish is the triple-fried Tunisian baharat chicken with a thick, custardy Belgian waffle.
Choma BBQ, another Coco creation, is impressed by the art of grilling, roasting, and smoking meats. A must-try dishes on the menu are Kenyan-style beef skewers paired with roasted green bananas and Zanzibari spiced rice and lamb, served with kachumbari salad.
Jiko Cocktails, by Tribe Hotel Kenya, unites the flavors and spirits of Africa through shaken, mixed, jumbled, and drained cocktails made by skillful barkeeper Kelvin Thaiya.
Penja, by award-winning chefs Glory Kabe, Pierre Siewe, and Moos Gbane, guarantees innovative African food and an elite culinary encounter from Cameroon and Benin. It includes farm cockerel breaded with mustard and tapioca and tandoori vegetables with fermented cassava semolina.
Seven Seafood, by Kiran Jethwa, offers a contemporary gaze at East African Seafood utilizing ingredients, flavors, and blends from the locale to bring conventional Kenyan cooking into the cutting edge world.
Shoebox Bakery, by Mame Sow, provides a delicious pan-African bakery experience, ranging from sweet and savory items. Ethiopian injera flatbread is a must-try dish!!
Sweet Ophelia's, by Smalls, is an Afro-Asian wok bar that provides delicious rice, noodles, and dumpling dishes. West African favorite Cameroonian pepper fish is a don't miss choice.
The Tasty Goat, by Jethwa, showcases fabulous and versatile meat blended with modern East African Cuisine's flavors, textures, and tastes.