District 2020 is a pre-planned future of Expo 2020 Dubai. It will reuse more than 80% of the site's constructed area into a human-driven smart city once the occasion shuts its entryways in March 2022. An invention ecosystem and community to help the UAE travel towards an advancement-driven economy, District 2020 will boast industry and technology development in the area.
Location and Total Project Area
Located on the edge of Sheikh Mohammed Bin Zayed Road and Expo Road, it takes 15 minutes from Jebel Ali Port (one of the world's biggest container ports) and Al Maktoum International Airport, and 45 minutes from two main airports. The project will keep excess of 260,000 square meters of GFA of LEED Gold and Platinum buildings from Expo 2020 Dubai. These will be transferred into commercial, residential, and cultural environments in District 2020. Then, following a short re-purposing and progress period, District 2020 starts to hand over to future inhabitants in Q4 2022 and proceeding in a staged way.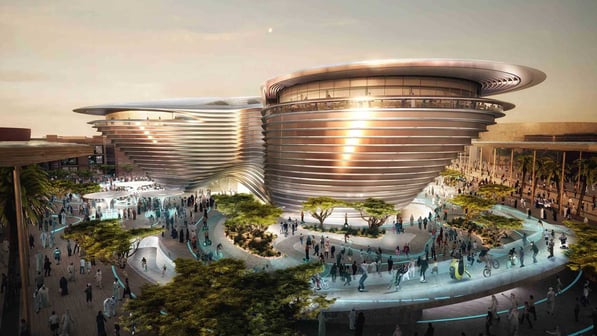 Built Assets
The major development building has been finished to host the World Expo, Expo 2020 Dubai, which operates between 1 Oct 2021 to 31 Mar 2022.
Excess of 115,000 square meters of commercial NLA built and available from Oct 2022.
Over 800 residential buildings started to be handed over from January 2023.
Built assets will contain LEED-certified commercial and modern residential units.
Built assets transferred from Expo 2020 will include the Rove Expo 2020 hotel and iconic cultural attractions such as Al Wasl Plaza, Terra – The Sustainability Pavilion, Alif – The Mobility Pavilion, and the UAE Pavilion.
Population and Electricity
District 2020 will constantly grow over stages and will have a population of 145,000 at full capacity. For electricity, three 132 kV substations have been constructed on-site, supported by solar panels throughout the project.
Amenities
District 2020 contain health, wellness, and community facilities such as Two hotels are planned, including the Rove Expo 2020 hotel, The Dubai Exhibition Centre (DEC) will function as a conference center at District 2020, Food and beverage spots will be found throughout District 2020, with offerings in keeping with the community's overall health, A 10 km dedicated bike track and 5 km jogging track, Parks and gardens incorporating water elements at 45,000 square meters, Completely connected pedestrian walkways throughout the project.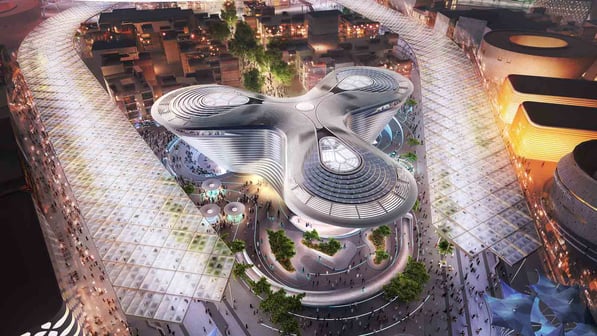 Smart Technology
High-speed, redundant site network, Extensive 5G Wi-Fi coverage, Environmental sensors and IoT capability , Site-based analytics systems, Wide range of strategies to support events, security, and facility management, Smart mobility facilities include smart parking, public transit apps, and smart shuttle services.
Accessibility
District 2020 is straightly accessible through three significant arterial roads with purpose-built flyovers constructed before District 2020 occupation. A dedicated autonomous public vehicle transit route will connect all main landmarks and centers of the project through a 4 km loop. It has a dedicated Metro Station on Route 2020, which functions on the Dubai Metro Red Line. It is planned to extend the line one stop to Al Maktoum International Airport in the future.