Are you searching for authentic Japanese foods like sashimi, Sushi, tempura, ramen in Singapore? Many restaurants in Singapore provide high-quality Japanese cuisine in an elegant and cozy atmosphere at an affordable price. Readofia team gives you the seven best restaurants in Singapore to Dine and Eat !!
Tamashii Robataya
Situated along the canal road, Tamashii Robataya is one of the fine Japanese restaurant in Singapore that equally maintains tradition and innovation. It's a must-visit restaurant to have authentic Japanese cuisine. Tamashii Robataya made a special menu to fit dietary restrictions too. The restaurant is more popular for robatayaki; a thick grilled food served on wooden oars. However, its creative kappa dishes made with fine and fresh ingredients will satisfy everyone's craving. Also, don't miss trying Tamashii's fantastic donburis!! Apart from delicious Japanese dishes, the other highlight at Tamashii is the open kitchen view that permits diners to watch how their meals are prepared.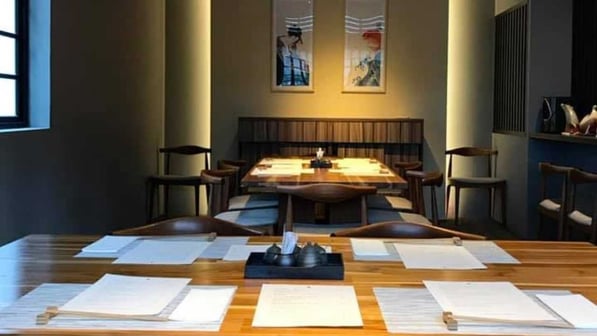 The Most Popular Dish to Try at Tamashii Robataya 
Grilled fish
6-course meal
Truffle noodle
Deep-fried fish
Decadent truffles
Teppan don bowl
Beef sandwich
Miyazaki A5 
Salmon belly sashimi 
Beef donburi
Asari Batayaki
Asari Saka
Saga Gyu Don
Tebasaki
Sake Kawa Senbei

Address: 12 N Canal Rd, #02-01 The Offshore building, Singapore 048825
Directions: https://goo.gl/maps/rSrdFFUhTSZwqae98
Reservation: chope.co
Phone: +65 6222 0316
Opening Hours: 
Monday - Friday: 11.30am - 2.30pm; 6.30pm - 9.30pm
Saturday: 6.30pm - 9.30pm
Closed on Sundays

The Gyu Bar
An ultimate destination for beef lovers!! Located along Stevens Road, The Gyu Bar, a 35-seat contemporary eatery, specializes in premium wagyu from Japan. Its private, modern, and exquisite setting makes it a great decision to eat with companions, family, and partners. Each wagyu's signature flavor is raised for its most prominent satisfaction through various cooking styles, including sukiyaki, yakiniku, and shabu-shabu. Each cow is grown up in a stress-free environment and fed with organic vegetables. Aside from wagyu, there's likewise natural seafood, noodle soup, steak, ramen, and an assortment of different dishes.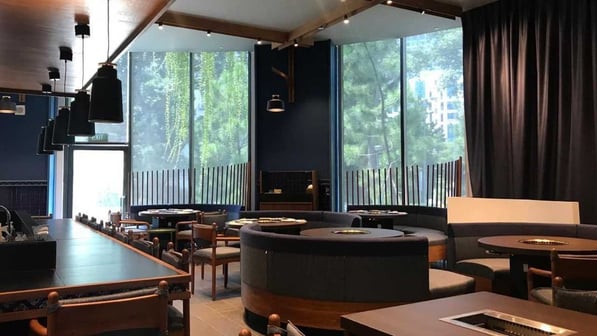 The Most Popular Dish to Try at The Gyu Bar :
Bento meat
Fish roe
Wagyu bbq
Truffle chawanmushi
Gyu meats
Japanese wagyu
Wagyu omakase 
Buta and chicken don
9-course Wagyu Omakase

Address: 30, #01-08 Stevens Rd, Singapore 257840
Directions: https://g.page/thegyubar?share
Phone: +65 6732 0702
Opening Hours: 
Weekday and Weekends: 12 pm –3 pm, 6 pm –10 pm
Place your order here: foodpanda.sg, tabsquare.com, deliveroo.com.sg


Sumire Yakitori House
With more than 100 outlets in Japan, Sumire Yakitori House is a setup diner that presents yakitori sticks and other top Japanese eatery picks. Their location at Bugis Junction denotes the brand's first abroad endeavor. For first-time diners, the Sumire Gozen is the best choice to know about the restaurant's offerings. A must-try dish is a trio of the Sumire signature skewers, a piping hot bowl of tori ramen, chawanmushi, and salmon sashimi. In addition, there's an attractive menu item, making this an absolute venue to fulfill everyone's Japanese cravings.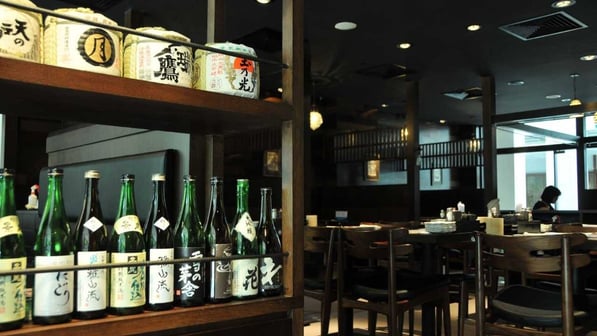 The Most Popular Dish to Try at Sumire Yakitori House :
Yakitori Don
Tori Karaage Don
12 stick Yakitori set
chicken sticks
Miso Katsu
Salad + Sushi
Yakitori skewers
Salmon Sashimi
Aburi Wagyu Roll
Uzura Bacon Honey

Address: 80 Middle Road #01-88/89 Bugis Junction, Singapore 188966
Directions : https://g.page/SumireSG?share
Reservation: chope.co, toreta.in
Order: foodpanda.sg
Phone: +65 6338 9963
Opening Hours: 
Monday - Thursday: 11.30am - 3pm; 5pm - 10.30pm
Friday, weekend: 11.30am - 10.30pm

Aburiya
Aburiya, one of the best Japanese Restaurant in Singapore, prides itself in bringing the perfect yakiniku experience. It's pure Japanese wagyu got from Japanese farmers. As the menu features all the iconic Japanese cuisine, not to be missed dish is wagyu. So drop here in the afternoon and enjoy their mouth-watering don sets at an affordable price. Serve it along with hot tea or a piping hot bowl of miso soup. The Wagyu Roast Beef Don set topped with spring onions, radish, and glorious marbled wagyu meat, and fluffy Japanese rice makes it a lavish lunch.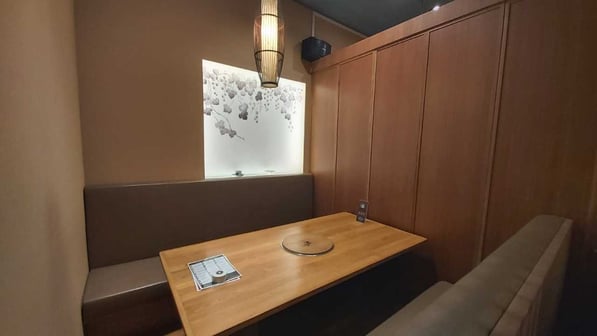 The Most Popular Dish to Try at at Aburiya :
Usuyaki cut
Tokusen misuji
Tontoro
Wagyu
Karubi
Tokusen Platter
A4 beef cuts
Seafood pancake
Tofu pork stew
Charcoal grilled yakiniku

Address:
 
79 Boat Quay, Singapore 049867
60 Robertson Quay, The Quayside, #01-03, Singapore 238252
Directions to 79Boat Quay : https://g.page/JapaneseWagyu?share
Directions to 60 Robertson Quay : https://goo.gl/maps/Ga4mEbXbL8VYpDSA7 
Phone:
Boat Quay: +65 6532 0365
Robertson Quay: +65 6735 4862
Opening Hours: 
Boat Quay
Monday - Friday: 6pm - 11pm
Saturday & EVE of P.H. 6pm - 11pm
Sunday & P.H. 6pm - 10.30pm
Robertson Quay
Monday - Saturday: 6 - 11.30pm
Sundays & Public Holidays: 6 - 10.30pm
Shin Kushiya
Shin Kushiya is the first Japanese restaurant in Singapore to introduce the kushiyaki dining idea. In an elegant, contemporary setting, it serves authentic Japanese cuisine at an affordable price. Being a kushiyaki restaurant, Shin Kushiya's signature dish is kushiyaki skewers made with fresh and fine quality meats, seafood, and vegetables. These skewers are grilled over a Bincho Charcoal, giving the grilled dish smoky flavor and juiciness.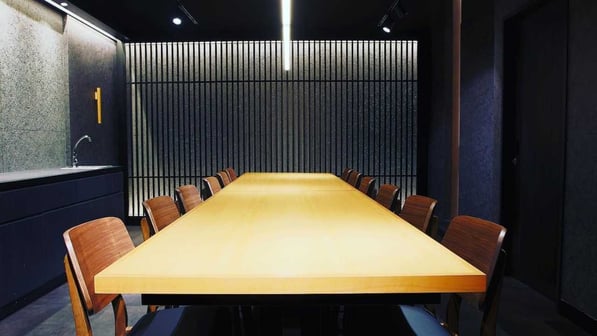 The Most Popular Dish to Try at Shin Kushiya :
Yakitori 
Grilled Teriyaki Marinated Cod
Beef Wrapped Enoki Mushrooms
Wagyu
Pork With Mustard
7-Sashimi Platter
Salmon
Unagi Set
Fried Squid
Japanese Curry Katsu Don
Salmon-Don


Address: 1 HarbourFront Walk, #02-120 Vivocity, Singapore 098585
Directions : https://g.page/shinkushiyasg?share
Phone: +65 6275 8766
Opening Hours:
Monday - Friday: 11.30am - 3pm; 5pm - 10pm
Saturday & PH: 11.30am - 10pm
Sunday: 11.30pm - 9.30pm
Reservation: chope.co
Order: foodpanda.sg, deliveroo.com.sg


Mikuni
Mikuni provides a gastronomic journey through delicate creations from its Sushi and Teppanyaki live stations. Mikuni's teppanyaki lunch menu contains an appetizer, A5 wagyu, sashimi platter, rice, and dessert. Its best-selling are wagyu beef steak, assorted sashimi, unagi kabayaki, grilled unagi, and tokujo Sushi. The service is good, the staff are pretty attentive and notice things, in a good way. Food is also amazing! Expect to spend $150 and upwards per pax because menu prices are medium-high and super small portions. Mikuni is a classy Japanese joint! You can enter the restaurant only through Raffles Shopping Center.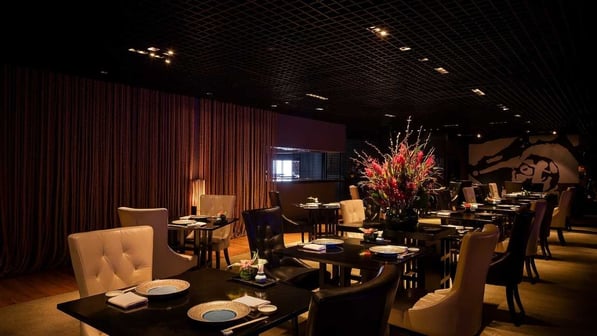 The Most Popular Dish to Try at MiKuni 
A5 Beef
Dragon Roll
Tendon
Hokkaido Milk Cheese.
Scallop Mentaiko
Salad And The Pork Katsu
Sukiyaki
Truffle Kampachi 
Lobster Maki
Teppanyaki Beef

Address: 80 Bras Basah Rd, Singapore 189560
Directions : https://g.page/mikuni-sg?share
Menu: menumodo.com
Reservation: resdiary.com, quandoo.sg
Phone: +65 6431 6156
Opening Hours: 
Monday - Saturday: 12pm - 2.30pm; 6pm - 10pm

Kinki Restaurant + Bar
Kinki Restaurant + Bar has been pleasing foodies across Marina Bay for years. The food at Kinki Restaurant is innovative, top-notch, and would make the eatery's namesake proud. High Roller Wagyu Don is a delicious selection of main containing Hokkaido uni, onsen egg, ohmi A4 wagyu, summer black truffle, premium Unagi Claypot with homemade umami sauce. Their master chefs handle traditional Sushi and sashimi. On the" Rock and Roll" menu, must-try Dragon chaser, Cowabunga, Foie gras & Scallop nigiri.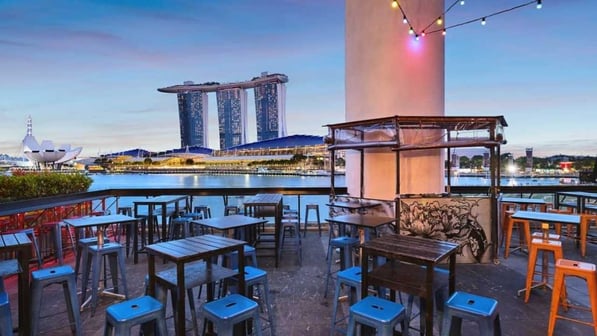 The Most Popular Dish to Try at Kinki Restaurant + Bar
Squid/Calamari/Octopus
Ad/Dc Dynamite
Tai Truffle Carpaccio
Grilled Squid Chimichurri
Kurobuta
Katsu
Chicken Bao
Foie Gras Chawanmushi
Salmon Sashimi

Address: 70, #02-02 Collyer Quay, Customs House, Singapore 049323
Directions : https://goo.gl/maps/daUExs8p7NYc1VRt7
Menu: kinki.com.sg
Reservation: kinki.com.sg, chope.co
Order: kinki.com.sg, foodpanda.sg, deliveroo.com.sg
Phone: +65 6533 3471
Opening Hours: 
Monday - Saturday: 12 - 3pm; 6 - 10.30pm
Sunday: 12 - 3pm