Bibimbap (비빔밥)
A mixed rice dish, traditionally it is serve in a bowl, where white rice with meat, sautéed vegetables, fried egg, Bibimbap sauce, and sesame oil. Bright red and spicy Bibimbap sauce gives the real flavor and makes the rice meal authentic!!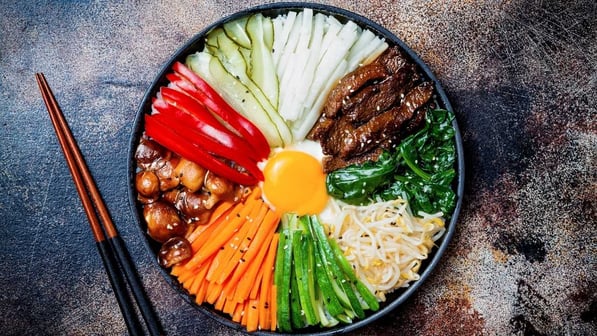 Bibimbap Recipes and Preparation
For preparation, traditionally thin slice of beef meat is marinates, while cooking and then add vegetables such as carrots, zucchini, bean sprouts, mushrooms, and spinach are sautéed in olive oil. Then, prepare egg in a pan, where the yolks are runny and white are firm. Bibimbap sauce is the main ingredient, made by mixing gochujang (chili pepper paste), soy sauce, sesame oil, vinegar, sugar, roasted sesame seeds, and minced garlic. A rice bowl topped with meat, assorted vegetables, bibimbap sauce, and sprinkled with sesame seeds and sesame oil is completely a flavorful meal that suppresses everyone's appetite!!
Bulgogi (불고기)
A Korean-style beef barbecue, is one of the most delicious Korean dishes prepare with grill. Bulgogi means 'fire meat,' made of thin slices of meat, marinated and grilled on a barbecue or stovetop. Bulgogi is prepare with beef, pork, or chicken. An authentic Korean Bulgogi contains of various beef cuts such as sirloin, rib eye, or brisket.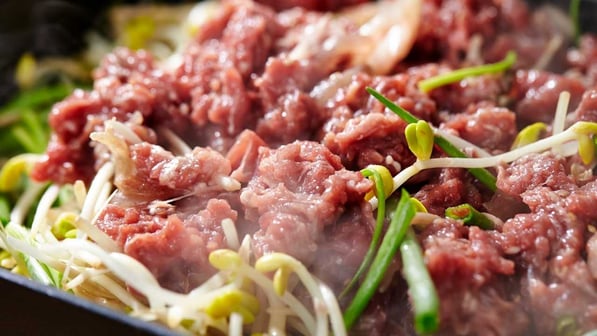 Bulgogi Recipes and Preparation
First, the meat is marinates between 1-2 hours in a mixture of onions, garlic, ginger, sesame oil, soy sauce, black pepper, and sugar. Traditionally Grilling the Bulgogi. Marinate beef is cook alongside with sliced onions, green peppers, and garlic gives an amazing smoky flavor!! This dish is usually serve by wrapping meat in lettuce with rice and Ssamjang, a thick spicy paste.
Tteokbokki (떡볶이)
If you are searching for super delicious Korean street food, Tteokbokki is a good choice that fulfills your taste buds with wonderful flavors!! Tteokbokki, a spicy cylindrical rice cake, is a well-known Korean dish. Garae-tteok (cylindrical-shaped rice cakes), Eomuk (fish cakes), anchovy broth, scallions, and Tteokbokki sauce are the main ingredients for this Korean dish.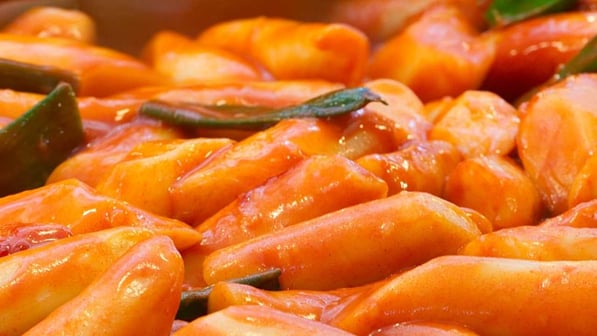 Tteokbokki Recipes and Preparation
First, soak the rice cakes in warm water for about 10 min. Next, heat the anchovy broth in a pan, then mix the Tteokbokki sauce, which contains gochujang (Korean chili paste), soy sauce, minced garlic, Korean chili flakes (gochugaru), and sugar. As it starts to boil, then add rice cakes, fish cakes, and onion. Boil until it gets thicken and finally garnish it with roasted sesame seeds, sesame oil, and chopped green onions. Attractive bright red-orange color stimulates everyone to taste it immediately!!
Gimbap (김밥)
Kimbap is a Korean rice roll that contains all sorts of filling!! Gimbap is a must-eat Korean street food dish that resembles Japanese sushi rolls. Rice, vegetables, meats, and eggs are the common ingredients rolled in a dried seaweed sheet called gim and serves as bite-sized slices along with kimchi as a side dish.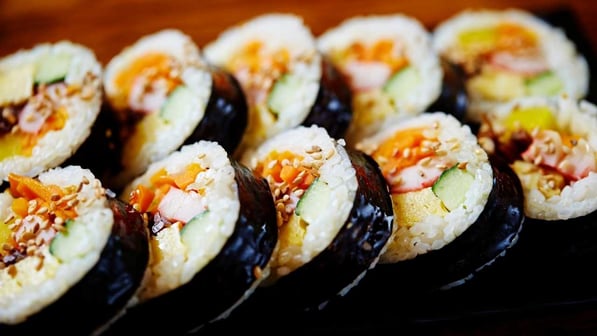 Gimbap Recipes and Preparation
First, cook the spinach in boiling water and then transfer into a bowl and add salt and sesame oil. Next, heat the pan, make an egg omelet and cut into long strips. Next, Cook the carrot slices, crab sticks, and kimbap ham separately in medium heat in the same pan. Then take cooked rice in a bowl and mix it with salt and sesame oil. Finally, spread rice over the gim, place all the ingredients one by one, then roll off and cut into eatable sizes and enjoy it!!
Hotteok (호떡)
Also referred to as Hoeddeok, is a sweet, savory dish from Korean cuisine. This most delicious Korean pancake is the popular street food in South Korea. Hotteok is most popular in Korean streets during the winter season. It's a flat circular dough contains cinnamon, peanuts, brown sugar, and honey. This sweet delicacy is crispy outside and soft inside.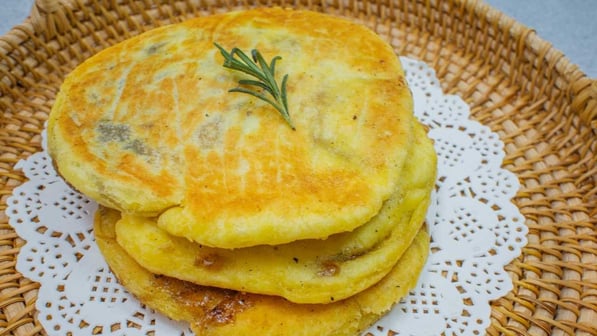 Hotteok Recipes and Preparation
The dough for the pancake is prepare from wheat flour, milk, sugar, yeast, and water. The dough is turns into small balls and then filled with a sweet mixture that contains brown sugar, honey, cinnamon, and chopped peanuts. Then make the dough into a circular shape using a special tool and cooked on a greased griddle. Crunchy and soft pancake fills your mouth with delicate flavors at every bite.
Japchae (잡채)
A savory dish, is the most popular Korean dish. It is traditionally prepare during Korean festivals like New Year and the Harvest festival. Japchae, a stir-fried noodle dish, is prepare using dangmyeon, a glass noodles made from sweet potatoes. This Korean dish cooked with vegetables, mushrooms, meat and seasoned with sesame oil and soy sauce makes it rich and delicious.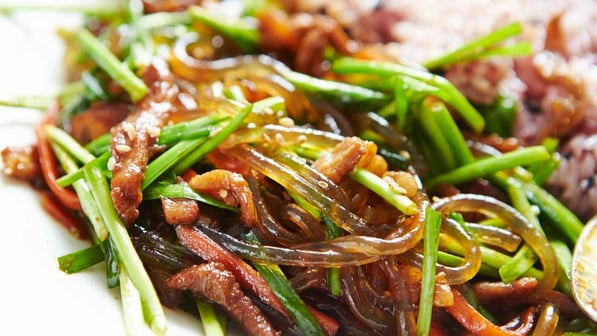 Japchae Recipes and Preparation
First, cook the dangnyeon in boiling water, rinse it in cold water, and drain it well. Then, cut the beef meat into thin slices and marinate using soy sauce, rice wine, black pepper, minced garlic, and sesame oil. Next, carrot, spinach, garlic, green onions, shiitake mushrooms, and eggs are stir-fried separately with soy sauce, sesame oil, sugar, and chopped garlic. Then, add all the ingredients to a pan to stir-fry. Finally, garnish it with sesame seeds and chili threads. Serve it hot or cold!!
Seolleongtang (설렁탕)
Classic hot Korean soup contains ox bones, meats, and briskets. This milky white bone soup is a local food of Seoul. According to personal taste, it is often prepare with salt, ground black pepper, red pepper, chopped green onions, or minced garlic.
Seolleongtang Recipes and Preparation
This Korean broth contains OX bones, which are heat over a low flame for several hours. It brings the milky-white color and extracts real flavors from the bones. Hot broth is prepare with salt, pepper, green onions, and few noodles. It can be eaten together with rice or several side dishes. This delicious korean food is the best choice to taste in the winter days !!
Samgyeopsal (삼겹살)
Samgyeopsal, a simply fabulous and delicious Korean grilled pork belly that everyone loves!! It's a staple Korean dish that is more popular in South Korea. Grilled pork meats are wrapped in lettuce along with some grilled slices of onions, garlic, and Kimchi. Usually, not marinated or seasoned pork belly slices are grilled on a grill plate or pan. Little sesame oil is added for flavor.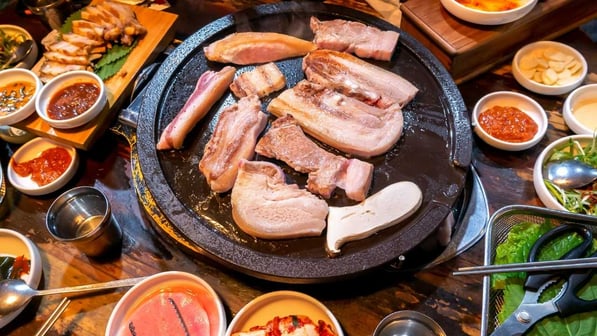 Samgyeopsal Recipes and Preparation
Meat is prepare until it becomes crispy on both sides. Ssamjang, a dipping sauce, is made by mixing soybean paste, hot pepper paste, green onion, garlic, sugar, sesame seeds, and sesame oil in a bowl. For serving, pork is dipped in ssamjang and wraps on lettuce along with slices of onion, garlic, chopped green onion, green chili peppers, mushrooms, and Kimchi. Samgyeopsal is best to taste with a shot of soju.
Kimchi (김치)
Famous side dish in Korean cuisine, served with every Korean meal. "Kimchi," the Korean term, refers to salted, seasoned, and fermented vegetables. Napa cabbage and Korean radish are the main ingredients for this Korean dish. Its high nutritional value, fiber content, low calorie, and unique flavor make Koreans to taste every day.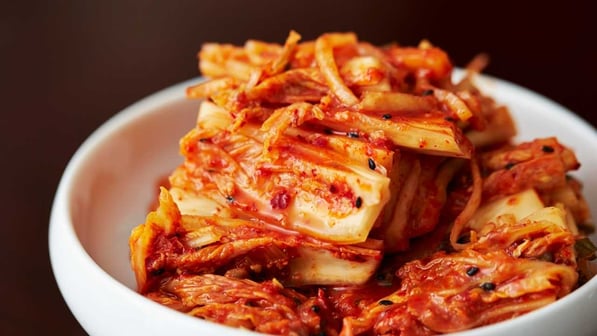 Kimchi Recipes and Preparation
For preparation, cabbages are cut into large pieces and coat with salt for preservation. Keep aside at room temperature, where a lot of liquid from the cabbage can be pulls out and drain it. Then, the cabbage is mix with various seasonings, including ginger, garlic, spring onion, jeotgal, gochugaru, fish sauce, and tossed well. Then Fill the mixture in a glass jar, covers with wax paper, and kept aside for 2-5 days for fermentation. Spicy and flavorful Korean dish is ready to serve!! Korean dinner is incomplete without Kimchi!!
Haemul Pajeon (해물파전)
Delicious Korean pancake prepare using seafood and scallion. It refers to seafood, 'Pa' means scallion, and 'jeon' means pancake. This Korean dish is contains eggs, rice flour, wheat flour, scallions, and seafood. Commonly used seafood items are squid, oysters, shrimp, and clams.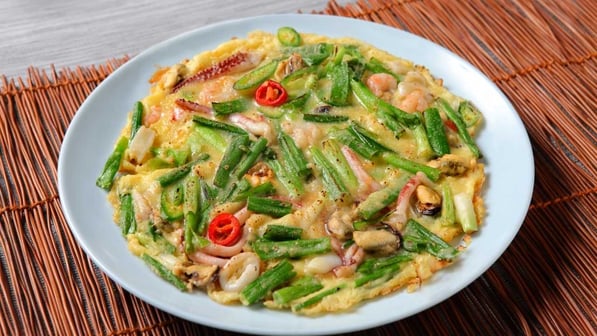 Haemul Pajeon Recipes and Preparation
Combine seafood mix, rice flour, wheat flour, eggs in a bowl and make them thick batter. Then heat a pan, pour olive oil, and add the batter evenly to the pan. Place scallions on top of the batter parallel to each other and pour a little bit of batter over the scallions to fill the gap. Cook both sides until the batter turns golden brown. It is usually serves with a dipping sauce made of soy sauce, sesame oil, sesame seeds, and gochugaru.
Mandu (Korean dumplings) [만두 한식만두]
Mandoo is a traditional dumpling in Korean cuisine. Mandu is commonly prepare during Korean Lunar Festival and is considered an icon of good luck for the upcoming year. This Korean dish is contains ground beef or pork, cabbage, tofu, onions, and mung bean noodles.
Mandu Recipes and Preparation
Combine ground beef or pork, onion, cabbage, tofu, and noodles in a large mixing bowl. Next, mix the soy sauce, sesame oil, garlic, salt, and pepper in a separate bowl. Pour the mixture over the meat and mix it well on hands. Place a tablespoon of filling in a dumpling wrapper and seal the edges. As your wish, you can steam, boil or fry the dumplings. Serve it with Korean spicy dipping sauce.